Flights to Croatia from Ireland and the UK for 2019.
As Croatia has a very good range of flight options, all of our holidays exclude flights, so that people can book these themselves. This allows for for maximum flexibility, and you get the best prices, with return flights to Split, Zadar or Dubrovnik usually available from both London and Dublin, as well as various regional UK airports and most European capitals, starting from £100/120€ return.
To assist you with flights we have prepared the tables below (with links to the relevant airlines), showing the main UK and Irish flight options. Additional flights are however often added for short durations during the season, so for an up to date list as well as checking for departures from other countries, we suggest that you do a quick search on www.skyscanner.net.
For exact timings and prices for specific flights you will have to check each individual airlines web site to see what the costs are for any particular date.
The nearest airports to Murter where we operate our Flotilla and Learn to sail Holidays from, are Zadar Airport, which is about 45 miles or 70km north of Murter, and Split Airport which about 60 miles or 90km south of Murter. For anybody using either of these airports, we offer shared transfers on Saturdays for about 200Kuna per person, each way, with group rates for larger parties and tailor made transfers available on request on other days.
For Bareboat Charters or people combining some sailing with some independent traveling in Croatia, then you can fly to any airport as it is a case of choosing the flight options that best suit your traveling preferences. We offer Bareboat charter from ports all along the Croatian coast.
For guidance on travelling around in Croatia using local buses etc please see Croatia Public Transport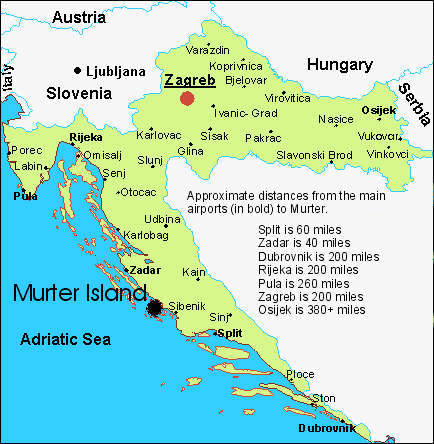 Before searching for flights, please note the following
Unless specifically arranged otherwise, all Bareboat charters, Flotillas and Learn to Sail Holidays start from 1700hrs on Saturday afternoons, but you do not normally sail until Sunday morning, so any Saturday to Saturday flight is ok, including late arrivals.

Mid week flights can be much cheaper, and a popular option is to combine a few days of a conventional holiday, with a sailing week. There are also a limited range of Wednesday yachts available.

The nearest International airports in Croatia to our base on Murter, are Split (90 KM) and Zadar (70KM). Using alternative airports to get to our base is normally only suitable if you have a few extra days and plan some additional traveling around, but Bareboat charter is also available from Dubrovnik, Makarska, Pula and Rijeka.
Please note that following any of the flight links below will direct you away from this site, so be sure to bookmark any pages that you might want to come back to before going any further.
Not all flights run all season so please check with the individual airlines for their exact timetables.
Flights to Zadar from UK and Ireland from end March to end October 2019
From
M
T
W
T
F
S
S
Airline
Luton
Y
Y

easyjet.com
May to End October

Gatwick
Y
Y

easyjet.com
Late April to End October

New April 2019

Stansted
Y
Y

Y

ryanair.com

Late March to End October

Manchester
Y
Y
Dublin
Y
Y
Y
Y


Ryanair have a base in Zadar and have a lot of additional flights from other European cities. You can see the full list on the destinations map on their website.
For flights to other airports in Croatia, like Pula, Rijeka, or Dubrovnik, either for a Bareboat Charter from those locations, or for anyone travelling around before or after a flotilla from Murter, there are too many options for an up to date list, but most flights should be listed on www.skyscanner.net