The Croatian Coastline
The Croatian coastline is often regarded as one of the best sailing destinations in the Mediterranean. It stretches from Umag in the North to about 40km beyond Dubrovnik in the South, offering a varied and interesting coastline, hundreds of islands and a number of National Parks. As the crow flies it is probably not much more than 500 km from the Slovenian border to Montenegro, but to sail the entire coast and include all the islands, you would cover a few thousand kilometers.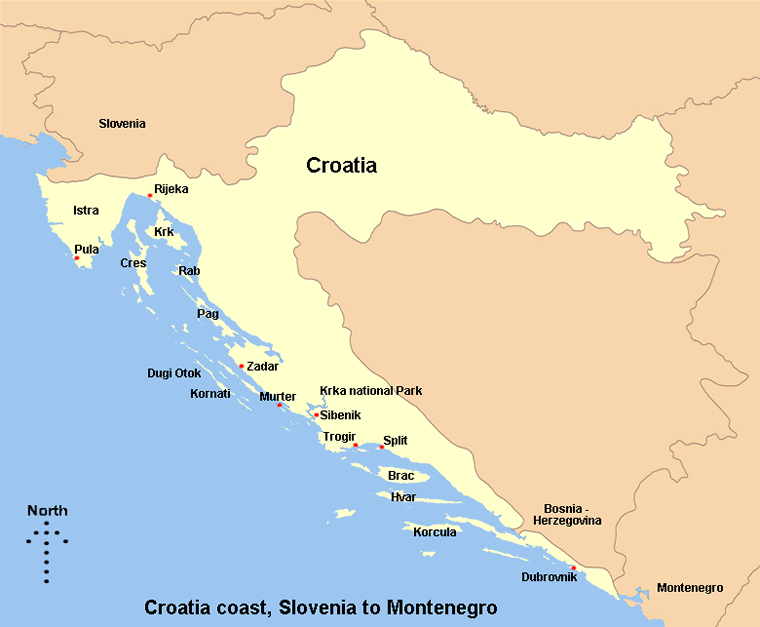 The first decision anybody wanting to charter a yacht in Croatia is therefore going to have to make, is to decide which area they want to sail in. To assist with this we have divided the country into three and given a brief outline of each area, including access to international airports, associated with each one below.
The North Slovenia to Zadar
There are international airports at Pula, Rijeka and Zadar
We offer a good selection of yachts for bareboat from either Pula or Zadar.
The Istrian coast from Umag to Pula is very developed, but has some very nice towns such as Porec and Rovinj and is particularly popular with anybody driving from Northern Europe
Krk, Cres, Losinj, Rab and Pag are the main islands in this area. In addition there are many smaller lesser known ones, and there is a good selection of harbours and bays to choose from.
The Brijuni national park, a group of small islands is located just north of Pula
When the famous Croatian wind, the Bura, blows it is generally at its strongest in the Velebit channel, so you do have to take particular care if you choose to sail in this particular section.
For a more detailed map click here
The Middle Zadar to Hvar (our normal flotilla area is in this region, and we sail from Murter)
There are international airports at Split (the main one) and also at Zadar.
This is the area where there is the greatest number of islands and ports. We offer a good selection of yachts for bareboat from either Zadar or Split, as well as Learn to sail, Flotilla, bareboat and week ashore and week aboard holidays from Murter..
There are two national parks, the Kornati and the Krka, as well as the nature park at Telascica, and some of the most stunning scenery along the entire coast.
Our flotilla base is from Murter island, which is in the middle of an ideal flotilla and holiday sailing area. In this section of the coast there is a huge range of small islands and coastal ports in easy reach of each other, allowing each yacht make their sailing days as long or a short as they want, making it perfect for flotillas. Anybody wanting something more challenging can either take one of our flotilla/bareboat yachts or just sail completely bareboat.
The cities of Zadar and Split, the towns of Sibenik and Trogir and tourist resorts like Vodice and Primosten are all in this section.
The famous islands of Brac and Hvar are just south of Split, while further north there are plenty of lesser know islands that only ever get visited by people arriving on yachts.
For more detailed map click here
The South Split to Montenegro
There are international airports at Split and Dubrovnik
We offer a good selection of yachts for bareboat from either Split or Dubrovnik..
Probably the best known islands on the coast are in this section, including Brac, Hvar, Vis, Korcula and Mljet, but please note that this area can as a result get very busy, particularly in August.
There is a national park at Mljet.
Dubrovnik is in this region,(to see the city properly we suggest tagging a few extra days on to your charter and staying in a local hotel)
The main islands in this section are generally bigger than in the area immediately further north, and this can therefore lead to longer sailing days as you navigate around them. As a general guide you should regard Split to Dubrovnik as a minimum of a one week trip and allow two weeks if you need to start and finish in the same marina. One ways are usually possible on paying the relevant supplement.
For more detailed map click here