qualifications and Training
Anyone can come on our Learn to Sail Holidays, and can either chose to just have an Activity Yachting course completion holiday, or to go for more formal Crew or Skipper certification. There are no prior requirements for the course completion holiday, but you will need to complete on line eLearning courses, in advance, to be eligible for certification. People going for the different levels can all be together on the same yacht, making these perfect for groups and families of mixed abilities and different holiday preferences.
For any course involving formal certification, the training that we offer follows the syllabus laid down by International Yacht Training (IYT)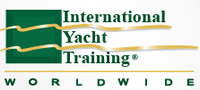 for their recreational sailing programmes. The IYT recreational syllabus is a modular system which offers a very flexible approach, and courses have wide international recognition. Beginners can easily be trained to an International Crew level in a week, while those with prior experience can get to a Flotilla or Bareboat Skipper standard, with ICC assessments available for anyone eligible. Any of these skipper certificates allow you to charter and skipper yachts on your own in the future.
There are on line eLearning theory courses available for each level, and these need to be completed in advance. This allows us to concentrate on the practical training during the holiday, with everyone working to the level that is appropriate for them. Practical progress is by ongoing assessment, and at some stage during the sailing week, there will be a multiple choice written test for the theory which will be based on the eLearning for that level, and can take one or two hours to complete..
Completing the eLearning can take anything from a few hours for a crew course, to over 30 hours for a Bareboat Skipper or ICC. This totally depends on your existing knowledge. The only purpose of the eLearning is for you to learn and understand the content, and each course must be completed to ensure that all sections are covered. The more existing knowledge you have on the subject, the faster you should progress. There is no initial fee to start the eLearning, which means anyone unsure of their level can start doing them to see where they are at. There are then costs either for the issuing of certificates after the training, or for certain more advanced parts of some eLearning courses.
This flexible approach ensures that all the training we provide, follows internationally recognised standards and that we can issue appropriate, recognised certification. Equally it is essential that we do not forget that most people choosing to do their training with us are also looking for a holiday, and that often in any group or family not everybody will eventually want to become a skipper.
Please see below for further guidance and details on the options available.