The International Watchkeeper/Flotilla Skipper Certificate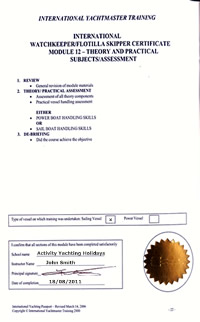 Those with some prior experience, who have also studied the necessary theory, can be usually be trained up to a Flotilla Skipper Level in a week This is an entry level skippering qualification enabling you to take charge of a small yacht, in moderate conditions during day light hours, or to be a Watchkeeper on a larger vessel on an offshore passage.
Over the week, you will refresh theory and cover in more detail
living on board a sailing yacht, and on board safety
sailing and yachting terminology
responsibilities of a Watchkeeper/Flotilla Skipper
man overboard procedures
how to tie knots and handle ropes correctly,
the points of sail, and general wind and weather awareness
how to steer a yacht under sail and power, including marina mooring
handling the sails, mooring and anchoring,
charts, chartwork, pilot books, and the magnetic compass,
buoyage and collission regulations
taking over a vessel and vessel checkout
crew safety briefing and general crew management.
basics of tides
preparing a short passage
use of VHF
any other aspects relevant to gaining an International Watchkeeper/Flotilla Skipper Certificate.
An important point to mention at this stage, is that your training with Activity Yachting Holidays in Croatia is in non-tidal conditions. Because of this you can get to a Flotilla Skipper level much faster than if you were learning in more demanding conditions, allowing you to then develop further skills in due course as required. Up to Flotilla skipper level you will only cover tides very generally, and you would not be ready to go straight out as a skipper in strong tidal conditions without a more in depth study of tides.
For anyone not understanding the full significance of this point, we suggest likening learning to skipper a yacht in tidal waters, to learning to drive a car while towing a caravan. Naturally it is much easier to learn to drive a car first and get your licence and then after some experience, if required, to add on the necessary skills for towing a caravan. In the same way you can learn the skills required to skipper and sail a small yacht, much faster, in non tidal conditions, and then once you have got some practice as a skipper, over time you can easily develop the additional skills required for sailing in tidal and more challenging conditions.
As the International Watchkeeper/Flotilla Skipper certificate, will allow you to take charge of a yacht, a simple course completion approach is not sufficent at this level, and an assessment must be carried out before Module 12 in the IYT Sailing and Boating passport can be signed off.
Modules 1 to 11 in the Sailing and Boating passport cover the syllabus to this level, and these can be signed off on a course completion basis. Module 12 however can only be signed off when someone has shown that they have learned and understood what has been covered in the previous modules, and that they can demonstrate that they could skipper the yacht in a safe and seamanlike manner.
The assessment that will be carried out for Module 12 is basically to the same standard as that required to do an ICC. Recent changes in legislation have meant that an ICC can now be awarded to people of any nationality, and so to cater for the increased demand and to offer a more professional service, IYT have developed an E Learning module to enable people to study for the required theory.
We therefore now assess everyone that is aiming to get to a basic skipper level, as if they were doing the ICC assessment and anyone aiming to get to the Flotilla Skipper level will have to complete the same assessment and theory test on site as if you were doing an ICC. For this reason we recommend that everyone at this level should complete the ICC E Learning Course before the holiday... more