IYT qualifications and Training
The training that we offer follows the syllabus laid down by International Yacht Training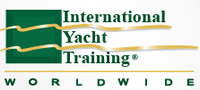 for their recreational sailing programme's. The recreational training syllabus is ideal for organisations that teach in a holiday environment, and courses have wide international recognition.
It is very important that we ensure that any training that we provide, follows internationally recognised standards and and that we can issue appropriate, recognised certification. Equally it is essential that we do not forget that most people choosing to do their training with us are also looking for a holiday, and that often in any group or family not everybody will eventually want to become a skipper.
The IYT recreational syllabus is a modular system which offers a very flexible approach. Beginners can easily be trained to an International Crew level in a week, while those with prior experience can get to a Flotilla or Bareboat Skipper if they wish. ICC assessments are also available for anyone eligible for these.
All previous experience and knowledge, however obtained, is taken into account, and beginners and those working towards one of the skipper levels can all be together on the same yacht. Those hoping to get to a skipper level must have more prior experience and must have studied a certain amount of theory in advance.