Croatia Flotilla Sailing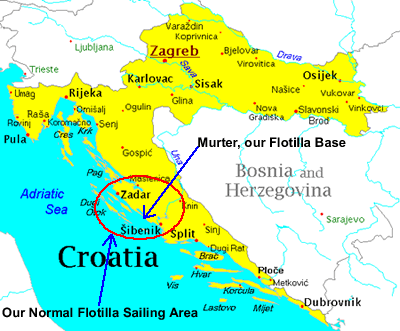 ,
Our Croatia Flotilla is based from Betina marina on Murter, a small island joined to the mainland by a bridge, and located approximately mid way down the Croatian coast, north of Split and south of Zadar.
This particular stretch of coast has an indented coastline with numerous towns, and villages, a selection of small populated islands just offshore, and then a few miles further out the islands of the Kornati archipelago. Overall there are probably more small islands and ports, in relatively easy reach of each other than any other similar sized sailing area in the Mediterranean.
In addition to the islands, there are two National parks, one Nature park, a number of larger tourist resorts and the cities of Zadar and Sibenik.
All the larger mainland ports have good marinas, the islands all have serviced town quays, and there and lots of bays and anchorages.
The combination of the above means that this is an excellent sailing area and is particularly suited to flotilla sailing where the obligatory daily distances between ports is usually kept to between 5 to 20 miles, allowing people to sail as much or as little as they want on each day. On shorter days, there is always a longer way round an island, making for an interesting and varied day, while those wanting a lazy day can just sail gently, anchor and swim as they wish.
For anyone wanting to go further afield and visit the larger and well known islands to both the South and North of this area, we can offer a very broad selection of yachts from the Bareboat/Flotilla Fleet and with these you are free to head off independantly at any time.
The nearest international airports are just over 50 miles away, at both Split and Zadar, and many people combine a flotilla with some other travelling around in Croatia and this is very easy to do and offers an excellent holiday.
Any yacht sailing with the flotilla must have a qualified skipper on board. If someone in your party does not have one of these we can arrange a skipper for you. You may also be interested in one of our Learn to Sail options where you can have an instructor on board so that at least one member of your party gets qualified while you still have a flotilla holiday. This would then allow you to skipper yourself in future. You can see the list of official licences accepted in Croatia here
About The Croatia Flotilla
The Croatia Flotilla is made up of three different elements.
Our training yachts that we run the Learn to Sail Holidays on and also to lead the flotillas. These will always have one of our Lead Skippers onboard who is in charge of that yacht, and depending on bookings there can be a number of these on any specific week, so effectively giving us a number of Lead yachts.

Yachts from our in house fleet, and these form the core of the flotilla. These yachts vary from 31ft to 36ft and range from our Economy two cabin models to modern three cabin 36ft yachts. These are usually the most cost effective options for families, or groups, looking for yachts in this size range.

Yachts that we book for you, acting as an agent, from the Local Bareboat Suppliers, but which we then arrange to allow to sail with our flotilla. This option allows us to offer yachts from 30 to 55ft and includes many very new yachts. These yachts are ideal for anybody with specific yacht requirements or those looking for larger yachts. It also means that we can access additional yachts if all of our in house yachts are booked, and also with these yachts you are free to depart from the flotilla at any time that you choose and sail independantly as with a normal bareboat, so allowing you to visit areas outside of our normal flotilla area.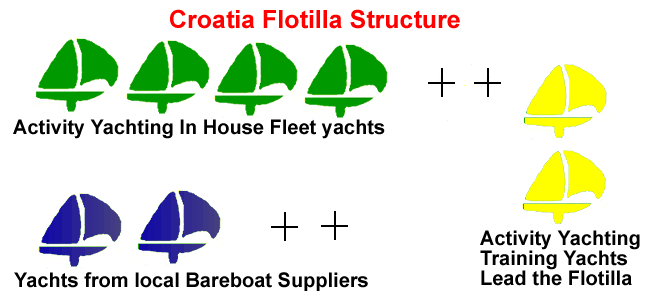 How the flotilla Works:
The flotilla is usually between six to twelve yacht yachts, and is led by one or more of our tuition/lead boats. Where there are up to twelve boats, there will either be at least two lead yachts, or extra staff on board if there is only one. In the main peak season when we have bigger group numbers, we generally split into two or more sub flotillas after the first day, to keep numbers manageable, and to make getting in and out of port easier. As far as possible we keep the obligatory daily distances relatively short (10 to 20 miles) allowing anybody that wants to sail more, total freedom to do so. Because of all the islands and ports in our area, the logic is "that you can always make a short day longer, but you cannot make a long day shorter", so there is no problem with sailing 30 to 40 miles any day that you choose.
Croatia Bareboat-Flotilla Programme
In order to offer a greater choice of yachts and availability, as well as not being limited to just those in our own fleet, we can book yachts from one of the local bareboat companies that we work regularly with, but to then arrange it so that this yacht joins our flotilla. This arrangement works as follows.
Having established the individual requirements, we recommend a suitable yacht, which we then book from one of the local bareboat specialists, who offer a very good choice of yachts from 30ft to 50ft. These yachts are all fully equipped for bareboat charter, with yachts ranging from a few years old to the latest models available.
The yacht prices, naturally will vary depending on the particular yacht chosen, and may include a small additional fee, over the normal Bareboat price, to cover the costs of joining the flotilla.
Yachts must always be taken from a Saturday to a Saturday, which is the same day that our flotilla operates. Yachts can usually be taken from either one of the three marinas on Murter, or from other nearby marinas that are about 15miles from Murter. If you are taking a yacht from any of the marinas that are not by our main flotilla base in Betina marina, then you will be provided with local contact details to enable you to join the flotilla on the first evening and then you will have to return to the same marina on the last day.
Activity Yachting Holidays books the yacht from the supplier acting as an agent of the local supplier, and then arranges that this yacht can join one of the Activity Yachting Flotillas, and sail as part of that flotilla for the charter period. All normal flotilla services, such as briefings, lead skippers, and the social side etc are included, with the only exception being that, any issues with the yacht must be dealt with by the staff of the bareboat charter company, rather than our flotilla staff. If you are taking a yacht from one of the more distant marinas then you will also miss the first morning briefing but any relevant information will be given to you when you join the flotilla.
As with all of our holidays, we can provide flights or you can get your own. We then arrange the airport transfers if required, when your group will be brought to the booked yacht on arrival.
All check in and out procedures for the yacht are taken care of by the local supplier, who treats this booking in the same way as they do for any other Bareboat booking and takes full responsibility for the check in, the check out and provides full back up for the duration of the charter. All normal bareboat charter conditions regarding either a refundable security deposit or a non-refundable insurance option apply, and yachts must be brought back with a full tank of fuel. To take one of these yachts the skipper must have a skippers licence and a VHF licence. a link to the official list of skippers licences is provided below.As with any Bareboat charter any specific instructions from the yacht yacht supplier, regarding the operation of the yacht, or any other relevant issues must be adhered to.
Please note that anybody taking one of these Flotilla/Bareboat options is totally free to leave the flotilla at any time, in which case you then continue to sail as a normal bareboat. This flexibility particularly appeals to experienced sailors new to Croatia, that like the flotilla support while they get used to the area, but then want the freedom to be able to then go off and do their own thing, and perhaps sail outside of our normal flotilla area, whenever they want. Please note however that once you do go away from the flotilla, you cannot call on the flotilla for assistance in case of any problems but must rely on the Bareboat supplier for this. All Bareboat companies however are geared up to deal with any problems, and these are rare.

On peak season dates when we can have groups of between ten and twenty yachts, we normally split into two or three sub groups with different skippers in charge of each section, and then we split into smaller flotillas and go to different ports to keep numbers manageable.

In Croatia all skippers must legally have a recognised skippers licence. You can view the list of official licences accepted in Croatia by clicking on the link below. The column on the left shows the country that the organisation that has issued the licence is based in, and any of these licences are acceptable in Croatia. Please note however that some of the licences are very basic and therefore it is also important to ensure that in addition to the paperwork that the skipper has relevant and suitable experience for the size of yacht that you are considering taking.

To see the list of official licences accepted in Croatia click here
Croatia Flotilla Sailing area
This is the area where we run our main Learn to Sail and Flotilla Holidays. The flotilla does not follow a strict pre-set weekly route,as we have to be flexible to allow for weather etc, but it generally remains in a set area, cruising between Primosten in the south and Zadar in the North. Our core in house fleet is based from Betina on Murter, and the flotilla sails in the area outlined in red. Bareboat/Flotilla yachts are from nearby marinas to Murter.
Yachts can can sail for one or more weeks, and we try to visit a different selection of ports on alternate weeks, although there are some overlaps at the beginning and end of the week. The lead yachts always return to our base marina for the Friday and Saturday nights, with Saturday being the changeover day. Sunday is the first day of the flotilla and we usually remain in the immediate area that day, allowing a gentle start for anybody on their first day and then go to one of the nearby ports that night. Anybody taking a flotilla yacht for two weeks does not have to return to the base for the middle weekend but can have this period for some free sailing.
The area outlined in red is the main sailing area for the flotilla. The outline does not indicate a pre set flotilla route, but instead it is a series of links between the main ports in the area. The flotilla route on any week is then a criss cross selection of any of these ports, with the final decision being made on site on a daily basis to suit the wind and weather.
Click on any red line for the approximate distance between ports and a photo and some more information on the port that the line is linked to.
Flotilla Sample Route North
This route forms a loop going north from Murter and takes in the mainland coast up towards Zadar, the islands of Ugljan, Pasman and out to the southern end of Dugi Otok, plus any of the smaller islands in this area. Depending on the weather it may also touch on part of, or even pass through the Kornati Islands before returning to Murter at the end of the week.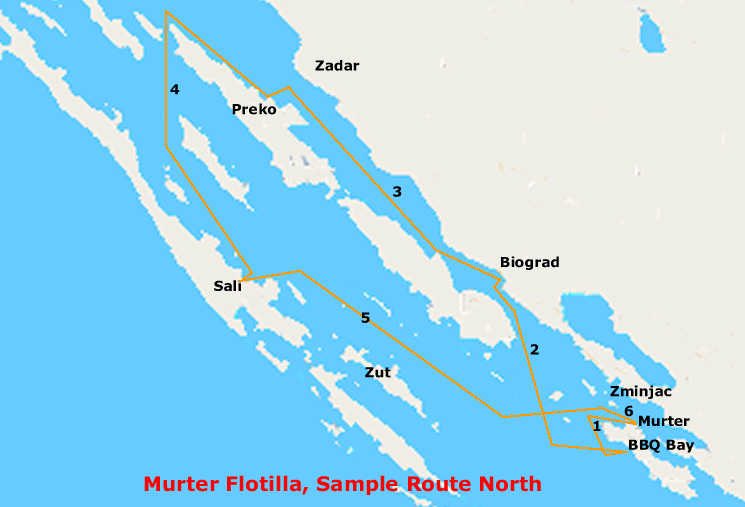 Flotilla Sample Route Centre
This route forms a loop going as far north as Biograd, before returning south of Pasman Island and heading out towards Zut and the Kornati. Depending on the weather then it may continue on in through the Kornati Islands or it may return to the smaller islands off Sibenik before returning back to Murter at the end of the week.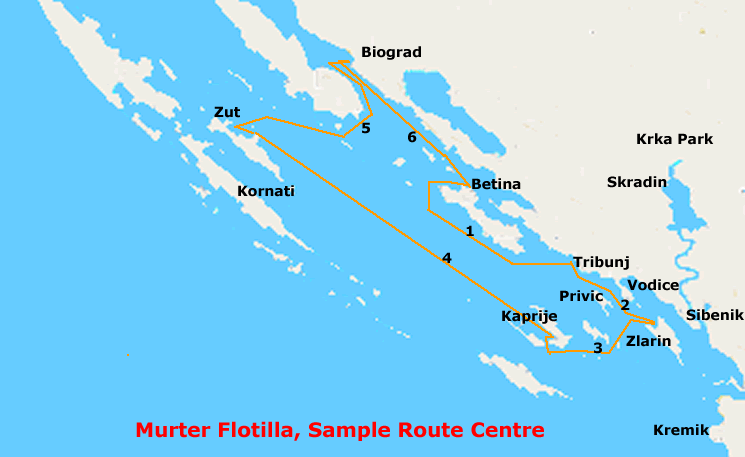 Flotilla Sample Route South
This route forms a loop that starts by sailing south from Murter taking in the mainland ports towards Sibenik and perhaps even as far down as Marina Kremik and Primosten, in addition to the many small islands that are located off Sibenik before returning back to Murter. Depending on the weather we may also go up past Sibenik to Skradin and the National park and waterfalls, although the flotilla no longer does this as a matter of course. This is because, based on feedback, we found that many people have either already visited these or they felt that they were spending too much time of a flotilla holiday on what is basically a sightseeing trip. However as the flotilla remains in the general area there is no problem with any yacht that wants to do this just heading off on their own to do this and then re-joining the flotilla a day or two later.

The following applies to all Flotilla and Learn to Sail Holidays
Yachts are available from 1700hrs onwards on a Saturday, but there is no problem with a later arrival, as nothing formal is organised the first night, and no sailing take place until the Sunday morning

There is a comprehensive briefing on the first Sunday morning at around 0900hrs, when you are introduced to the team and any paperwork can be done and this can take up to an hour, and then yachts sail when that is all completed.

On other mornings there is also an 0900hrs briefing but this is much shorter and is to discuss the destination for that evening, suggestions for the route for the day and including lunchtime stops.

We always try to keep the obligatory distance on the first day first day relatively short, and usually between 5 to 12 miles. This is to allow everyone a gentle start, and to give any inexperienced or rusty skippers and crews a chance to settle on board and to refresh their skills. The area between Murter and the mainland is a large protected body of water and perfect for practicing in, while there is no problem with more experienced crews heading off and creating a longer and more varied day for themselves, if they wish. This approach also means that anyone taking a Bareboat/Flotilla yacht from more distant marinas can easily join the group.

Yachts should aim to get into port every evening for between 1700 and 1800hrs.

Anyone taking one of our in house yachts, can discuss with the skippers on site and normally can free sail at anytime, but only in the general area of the flotilla. This is simply so that if you have a problem then we can get to you to provide any necessary assistance.

Mooring will normally be in a marina, on a town quay or rafted in a bay. For the first two, we try to reserve places if possible, but often in peak season, we cannot do this and may end up rafting in a nearby bay if a port is full when we get there.

In the Marinas and town quays, there is nearly always local assistance and these people are then in charge of where the yachts moor, and not our lead crews. This does mean then however that there is generally no problem if you want to go into port early, and you do not have to wait for one of our skippers to get in first. As a guide expect to pay somewhere between 1300 Kuna to 1600 Kuna for a 36ft yacht sailing with the flotilla, for mooring for a week.

A flotilla is a group activity and the choice and mix of ports chosen will reflect this. Daily weather forecasts are available but local conditions can vary considerably and the flotilla will always err on the side of safety, even if this sometimes means some restricted sailing or changing the plan due to strong winds.

Shopping can be done on most days and there will be be somewhere to eat ashore in the evening most evenings and when this is not the case you will be advised well in advance.

Yachts must always be back in port by 1800hrs on the last Friday afternoon and check out is by 0900hrs on the Saturday morning, but again no problem if anyone wants to leave on the Friday evening and you do not miss any of the holiday by doing this.

Anyone taking a Bareboat/Flotilla yacht must allow time to refuel on the last afternoon, and should be aware that it is normal practice for a diver to inspect the yachts when they return. This is normally done at a pre set time so it is important not to be late back, or you could incurr an extra expense if the diver has to go down a second time just to inspect your yacht.